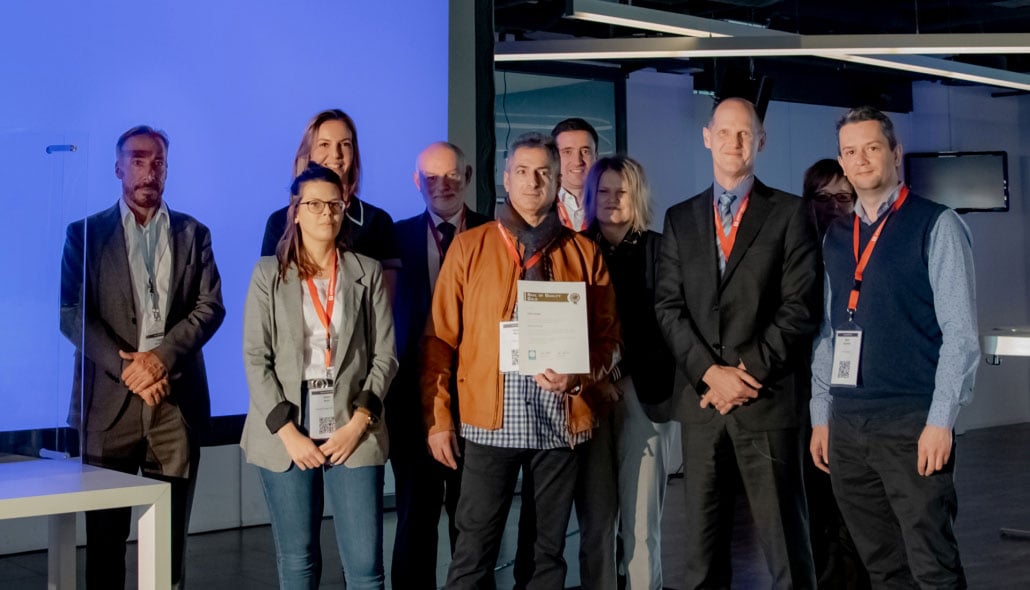 The software manufacturer of electronic CAD product catalogs CADENAS has awarded the international manufacturer of engineering components the 'Golden Quality Seal' award. In a project lasting several years, 'Digital Twins' of all products in the FATH engineering components catalog were created. The award of the highest quality rating and the publication of the updated CAD product catalog mark further milestones on the FATH digitalization roadmap.
Germany - Augsburg/Spalt 16.05.2019 - FATH GmbH has received the 'Golden Quality Seal' award from CADENAS Konstruktions-, Softwareentwicklungs- und Vertriebs GmbH for its newly modelled electronic CAD product catalog. This award for manufacturers with intelligent 3D engineering data of the highest quality is another milestone in the digitalization of FATH. With the 'Digital Twin' of the FATH products, the customer can already integrate the components into virtual projects and production lines during the planning phase. "This means an important market advantage, because with the increasing trend towards Industry 4.0 based manufacturing processes, the demand for virtual simulations is also growing. We are pleased to be able to offer this option to our customers now", explains Giovanni Murana, Head of the CADENAS project at FATH.

The publication of FATH´s updated CAD product catalog on a number of websites and platforms, as well as on the CAD download portal PARTcommunity (www.partcommunity.com) operated by CADENAS, represents a further milestone. FATH´s electronic product catalog is now available in German, English and French. Interested parties and customers, buyers and designers can download the required data and 3D models for their applications individually in a variety of formats. In addition to information on material and color, kinematic/geometric dependencies are also stored in the 3D product data. A special benefit is the possibility to virtually display the degree of detail (LOD functionality) of the 'Digital Twin' of the FATH components in different levels. In addition, there is an improved ERP compatibility for the user, because the structuring and naming of the products have been clearly defined and are monitored by CADENAS.

Further information at press@fath.net

FATH is an international group of companies with headquarters in Spalt, Germany and around 330 employees worldwide. The company specializes in developing, manufacturing and selling of components for mechanical engineering. The group has locations in Germany, the PR China, the USA, Hungary, Great Britain and the Netherlands (www.fath.net).

CADENAS is a leading software developer in the areas of Strategic Parts Management and Parts Reduction (PARTsolutions) as well as Electronic Product Catalogs (eCATALOGsolutions). The tailorable software solutions of the enterprise act as a link between component manufacturers, their products and the buyers (www.cadenas.de).
Contact
FATH GmbH Components
Gewerbepark Hügelmühle 31
D - 91174 Spalt

Johannes Marx
Tel: +49 9175 7909-564
press@fath.net